20.02.2019
HC-8682 Link OTN (100G): Crypto's high-performance network security unit
Applications such as real-time collaboration between different locations or extensive video surveillance and other sensors generate huge amounts of data, which need to be aggregated and transported to the network core and to backup data centres. To protect this mass of information from attackers, Crypto has a powerful solution.
18.02.2019
Secure your data with HC-7825-200 and HC-7805-200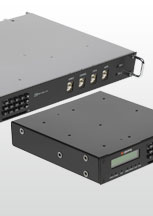 Data must be transmitted in the most secure way and protected against hackers whether at company headquarters, in a data centre or a small office. The two new encryption units from the Crypto IP VPN family ensure that your information travels safely between locations.
14.02.2019
"Our independence differentiates us from other providers"
Andreas Linde, Crypto International's owner and Executive Chairman of the Board, shares with us his thoughts about the future and the new company's exciting jurney.
Read the full interview.
CryptoMagazine 2 / 2018
The customer magazine is available in five languages:
English
French
Spanish
Russian
Arabic